Vehicle display graphics for many local businesses can provide significant brand exposure. 
A simple logo or graphic can provide excellent advertising at a low cost. Nustream Marketing can help with magnets, decals, full or partial vehicle wraps, window perforated graphics, cut final, and more. As every car has a different shape, each custom vehicle wrap we take on is like its own game where we strategically orchestrate the installation to minimize the amount of (or even eliminate when possible) seams in the vinyl. With less visible seams, it gets even harder to tell our wraps apart from a high-quality paint job! Vehicle wraps receive between 40,000 and 90,000 impressions daily.
Custom Vinyl vehicle wraps help you gain attention from drivers sitting in traffic, pedestrians passing by and even from onlookers in the buildings nearby. Vehicle wraps improve the visibility of the local business in urban or rural locations alike. Custom vehicle wraps not only inform on-lookers of your business's existence, location, or phone number but easily display your logo or images of your products and services.
Custom Vehicle Wraps in the Lehigh Valley
Transform your company car or truck into a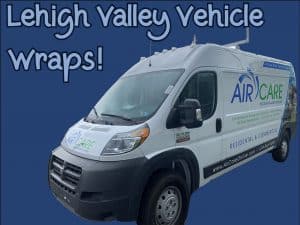 rolling billboard for your brand with custom vehicle wraps and custom graphics. From full-body vehicle wraps to vehicle magnets, and everything in between, NuStream Marketing has the printing tools to turn your boring delivery van into an eye-catching advertisement on wheels! Contact NuStream today for custom vehicle wraps in the Lehigh Valley!
What better way to multi-task than by advertising your products and services while you're in the middle of heavy traffic?
Our vehicle wraps allow you to effortlessly reach thousands of wandering eyes with your brand message during your daily commute. With so many custom vehicle wrap options to choose from in the Lehigh Valley, our marketing and communications experts can help you hand-craft the ideal wrap to knock your branding objectives out of the park.
Call or email the NusStream Marketing team today to get an estimate on your next BIG project!