Top 30 New York eCommerce Development Companies
Offering the Best eCommerce Websites in New York and NYC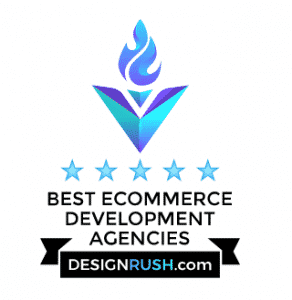 NuStream Marketing Awarded as Top 30 New York eCommerce Development Companies by DesignRush
"Our industry experts identified the leading New York eCommerce development companies that build high-performance online platforms. Use our practical tool to filter and compare listings by size, reviews, budget, portfolio and more to select the best fit for your brand."
We thank them for their consideration. And we're happy to be recognized by a company with distinction such as DesignRush. In addition to our eCommerce development services, we can also help set you up with marketing services for your online store. Not only will our team help you create an easy-to-use online storefront. Additionally, we can make it easy for consumers to find your shop right when they're ready to make a purchase.
Check out the full list of companies recognized by DesignRush for their distinction amongst the best eCommerce development agencies.
Why Hire a Top Ecommerce Development Company for Your Business
In today's digital age, having a strong online presence is crucial for any business. Ecommerce websites are essential aspect for online presence. They allow businesses to reach a wider audience and sell online. However, building an ecommerce website is not an easy task. It requires a high level of technical expertise, design skills, and marketing knowledge. They don't need to just beat your competition, but their own. Getting those top spots in search results for your keywords is important. Consumers are scrolling down those pages less and less on average. 
Benefits of Hiring a Top Ecommerce Development Company in NYC
Professional Expertise: A top ecommerce development company in NYC will have a team of experts with years of experience. They will have the skills and knowledge to build a website that is user-friendly, visually appealing, and optimized for search engines.

Customization: A top ecommerce development company tailors your website to your specific needs. They will work with you to create a unique and memorable online shopping experience for your customers.

Technical support: A top ecommerce development company will provide ongoing technical support. They ensure that your website is running smoothly and that any issues are resolved quickly.

Marketing expertise: It helps when they will not only build your website. Ideally, they'll also help you with marketing strategies. This can increase your online visibility and attract more customers.
In conclusion, hiring a top ecommerce development company is essential for any NY business looking to establish a strong online presence. They will provide you with the technical expertise, customization, ongoing support, and marketing knowledge to create a successful ecommerce website that drives sales and growth for your business.