What are Good Backlinks?
Reputable Connections in Your Market
If you've found yourself here, you may have heard that backlinks are good for your website's SEO. A backlink is an incoming link from one website to another. It could come from a blog, a social media site, a directory, the content of another website. But, before you get started on link building, you should learn the difference between good and bad backlinks. Ever since Google Penguin was introduced, it has become particularly important to differentiate between the two. If you're wondering, "What are good backlinks?" You've come to the right place. 
Top Quality Backlinking
When your website has a lot of top-quality backlinks, it really helps your organic traffic vs. paid traffic. You can see this in the 2021 Google algorithm July update, where they are filtering out spammy, low-quality backlinks and rewarding higher quality backlinks. Meanwhile, bad backlinks can harm your site more than they help it. So, how do you differentiate between good and bad backlinks? Primarily, you must consider where the link is coming from. How much authority does that site have? Are they an expert within your specific industry?
What a

re

 Quality Backlink

s

?
A quality backlink comes from a relevant site that is authoritative within your industry. The site is well-trusted by search engines (robots) as well as by searchers (real humans). When you get a link from a site with similar content that has high authority, it's a signal that your content is also noteworthy. This type of link will positively affect your site's SEO. Also, with high-quality backlinks, you can have peace of mind knowing that you're not linked to a spammy site that will damage your credibility. Many search experts say that 70% of a website's ability to get good search rankings is influenced by the sites that it's linked to.
What a

re

 Bad Backlink

s

?
On the other hand, a bad backlink will come from an untrusted source that isn't related to you in any form. Websites that violate Google's Webmaster Guidelines are penalized. Google's algorithms are supposed to catch any infractions, but they also have manual reviewers who can give out penalties. Being associated with these types of spammy sites can damage your SEO. To help prevent bad backlinks, you need to do a quick analysis of the site you plan to use. Here's what you need to do.
Look at the Website
Even when a site has great SEO metrics, it doesn't necessarily mean that it will work for your link building campaign. When the website you're targeting isn't relevant to your own site, you create a bad backlink. If you have a website that sells old-fashioned soda, it's not going to help you at all to get a backlink from a blog about travel destinations or a website about photography equipment. You also need to have clear, relevant anchor text for the link. This is the visible and clickable link text that contains the hyperlink. It gives users at least some idea of what they're clicking towards.
See How Often They Publish New Content
Check out the date of the site's latest posts to see if it's still active. It's best to find an active site that adds new posts often. In addition, it helps to use sites that have a lot of regular user engagement. 
Make Sure the Site Isn't Being Penalized
You should check to see if Google is indexing the website. By doing a search for "site:domain.com", you can make sure that the website hasn't been penalized and removed from Google search results. Although, it is possible to be penalized without getting deindexed. Run a search for the site's brand name. If the site doesn't come up as the first result, it's a sign that Google has penalized this website.
Analyze the Website's Traffic
There are a few different websites you can use to analyze someone else's traffic. Some of the popular ones include SEMrush and SimilarWeb.
Analyze the Site's Domain Authority
Domain authority is defined as a search engine ranking score that describes the site's relevance to a certain subject matter or industry. The relevance directly impacts the site's rankings with the search engines. A site can rank between 1 and 100. To get a quality backlink, you'll need a domain authority of 30 or more. If you target sites that are 50 or more, you'll get even better SEO results. An effective way to check domain authority is to use the Google Chrome extension that's called SEO Site Tools, Site Analysis.
Do-Follow Versus No-Follow

 Links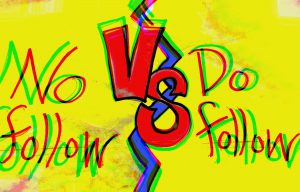 A do-follow backlink passes authority (or link juice) from the referring site to the linked website, boosting the page rank. A no-follow link doesn't boost rankings or transfer any link juice. Do-follow links are usually more popular. But you also need to have some no-follow links that will make your links look natural, relevant, and authoritative. They also build brand awareness and provide referral traffic for your site that could lead to conversions down the line. A quick and effortless way to get do-follow and no-follow links is to do some guest blogging on sites that are well known within your industry.
Should You Prioritize Quality or Quantity?
Are you looking for a huge amount of low-commitment traffic or a small amount of high-commitment traffic? It can be more time-consuming and difficult to generate top-quality backlinks. The harder it is to get a backlink, the more valuable it is. Therefore, it may be better to have a few high-quality backlinks than a lot of not-so-good backlinks. There's a risk involved when prioritizing quantity because you may get a backlink or two from spammy sites. 
You'll also want to diversify, getting backlinks from all sorts of different websites. When most of your backlinks come from a single domain, Google sees it as a link scheme. Also, don't forget to use internal links that allow users to navigate from page to page within your website easily. If you have any questions or concerns about backlinking, reach out to our SEO professionals at NuStream. We can create great backlinks that are relevant to your business, helping boost your domain authority.