NuStream Marketing Awarded as Top Advertising & Marketing Company in New York by Clutch
With over 20 years of experience in advertising and marketing, NuStream Marketing has worked with clients in a variety of industries to assist them with their marketing needs. We combine all marketing mediums to ensure your brand and message portrayal is consistent and engaging. We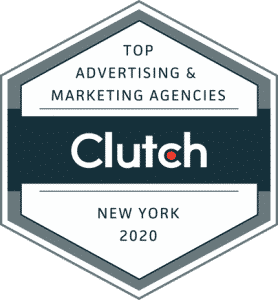 deliver marketing campaigns across search, SEO, and social media that help our clients reach their marketing goals.
Clutch is a B2B market research firm that connects service providers and buyers through data and verified research. Central to their process is client reviews. In this unique process, analysts have spoken directly with many of our clients and learned more about the services we provided. With 10 reviews and an overall 5.0 rating, we've seen strong results from Clutch's extensive research process. We are thrilled to be listed on Clutch as a top SEO company in 2020.
Our clients' participation made this award possible, and we want to thank them for their time and honest feedback. Below is an excerpt from a recent review, along with a project summary:
"I met their whole team and I felt a great connection with everybody." –Social Media Manager, Multiple Businesses
We created a promo video to showcase winter clothing. They used our footage for an ad campaign.
"Being honored by Clutch.co as a top B2B company in 2020 is a great wonderful accolade for NuStream. We greatly appreciate the recognition." –Kevin Fidler, Owner
Thank you to everyone who contributed to our company's success. We look forward to collecting more reviews and continuing to grow our platform on Clutch.