How to Increase Traffic
It's more important than ever now in 2019 to have a website that is fast, responsive, and engaging to increase traffic to your website. With over 1.4 billion global internet users, an increased number of people are online than ever before. A vital component of a successful business is getting more customers. Although there are 1.24 billion websites in the world, you want your target audience to reach your site, not everyone. Competition is stronger than ever to get traffic to your website.
WHY TRAFFIC TO YOUR WEBSITE IS IMPORTANT
Website traffic is essential for the growth of your business. It can help you do the following: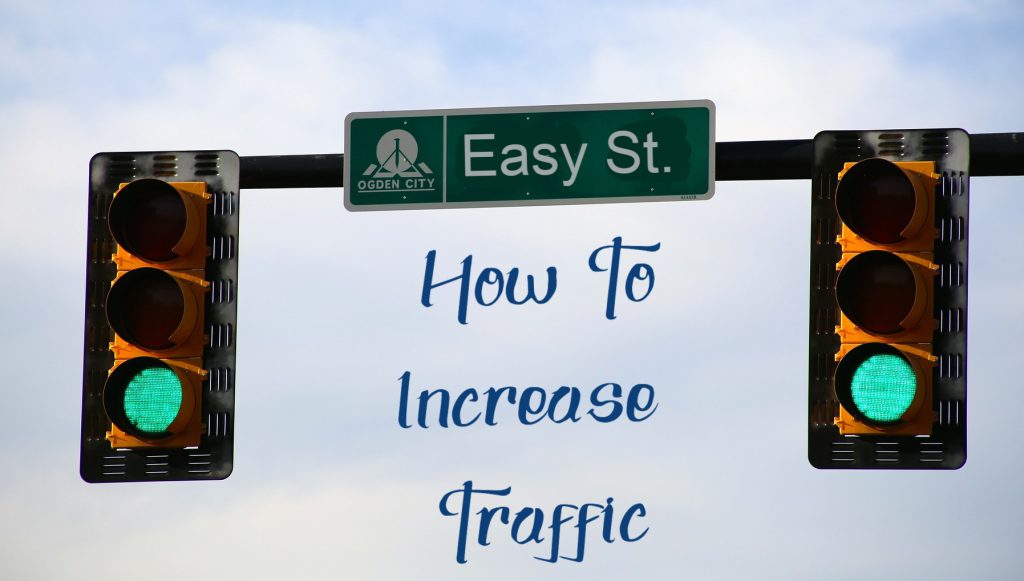 Get an idea of your marketing strategy's effectiveness
Gather insight into your audience to better understand who they are
Improve your SEO
Generate more leads
10 WAYS TO INCREASE TRAFFIC TO YOUR WEBSITE
1. Advertise
Advertising is an excellent approach to getting traffic to your website and building your brand. Through paid search, social media advertising, and display advertising, businesses can get their message in front of people. It's important to determine your specific goals before deciding on a method. From there you can figure out which channel would be best for your business.
2. Target Long – Tail Keywords
Using long – tail keywords in your content will render better results. Long-tail keywords account for most online searches. If you're not targeting them, you're missing potential consumers.
3. Social Media Advertising
Use social media content to drive traffic to your website. Facebook, Instagram, and Twitter are all unique examples of social media platforms you can use to highlight your brand. Not only do you need to create content that attracts your audience, but you need to drive them in the right direction to act. The right platform varies from industry to industry, so it's essential to get an understanding of each so that you can use the appropriate one.
4. Draft Catchy Headlines for Blogs
Carefully craft your headline to make the most of SEO and attract the attention of your audience. It's not enough to have a comprehensive blog with images and engaging content. The headline sells it all, make sure it's an excellent one. Lists, numbers, and lists are ways to reel in your readers. The main takeaway is to add value and excitement to your blog headline.
5. Use Internal Links
Utilize internal links in your web content. Internal links will help the user navigate through your content and direct them to relevant content within your website that they may be seeking. The more natural the web browsing experience, the better. Internal links also help with SEO and website credibility.
6. Make Your Website Responsive
In today's age, it's especially important to make sure your website is responsive. In an era where consumers want instant gratification, it's vital for your site to work efficiently and effectively. Pay attention to both your mobile and desktop browsing experience. With more of an increase in users on mobile than ever before, it's necessary for your website to be responsive on mobile devices. Ensure that your site is accessible across a range of devices for optimal success.
7. Ensure Your Website Is Fast
Not only is it essential for your website to be responsive, but it also needs to be fast. The vital thing to focus on here is the bounce rate. The longer your site takes to load, the greater the chance people will leave your website and "bounce." To avoid this, ensure that you optimize your pages including image file sizes, page structure, and the functionality of third-party plugins. People will look elsewhere if your website does not load fast enough.
8. Look into Your Analytics
Your website analytics is a resourceful tool to utilize. It provides data that gauges how your website is performing, who it's attracting, and everything in between. It can determine the demographics of your visitors, which can give insight into who they are and how to target them better in the future. If evidence shows your site is under performing, use that to improve the segments that are falling short. Concentrate on what posts are proving the most popular. This tool also gives insight into where the traffic is coming from. For example, if you can see that traffic is coming from social media, make sure that you put effort into expanding on that to continue the success.
9. Video Content on Your Website
It's no secret that video content is on the rise and here to stay. The days of text-based content are in the past. With video at the forefront of successful content, you should utilize content to increase your website traffic. Data shows that visuals attract more visitors and get them to stay. Video content is a terrific way to make your website more engaging. Tell the story of your brand and create a message that will resonate with your audience.
10. Research Your Competition
Look at competitors in your industry and gain insight from them. Understand the main traffic sources of other brands in your industry. You can use this information to get a better idea of what marketing channels to use. Websites such as Buzz Sumo total the social performance of sites and content to provide you with topics that resonate with readers and are relevant on social media platforms. With this tactic, you can find out what people are reading and create content that will bring traffic to your website.
---
Conclusion
The key to increasing traffic on your website is having a core understanding of your audience, what marketing channels they prefer to use, and how they want to navigate a site. You can achieve an increase in traffic by creating content that is tailored to their interests and consumption behaviors. It's important to not only create content that will engage your audience but also content that will help boost your SEO. Optimization is key. If you create a strategy that encompasses these ten tips, your business will see an increase in their traffic and better target their followers.
Here are some Helpful Page Links: